Types of Dental Implants: An Overview
At Cosmetic & Implant Dentistry Center, we realize that every patient is unique and there is no one-size-fits-all solution, especially when it comes to restoring missing teeth using dental implants. Dr. Jose Valenzuela, Jr. provides different types of dental implants at his Los Algodones, Baja California, Mexico-area practice. Patients can take advantage of traditional, mini, Teeth in a Day, All-on-4® or All-on-6® implant options.
Advanced Technology and Customized Care
Dr. Valenzuela's outstanding results and remarkable reputation as a dental implant specialist helps patients from Palm Springs, Imperial Valley and Mexicali, Yuma, and the surrounding areas feel confident in his ability to place their dental implants. Our office employs advanced dental technology, such as digital x-rays, intraoral cameras, and fully computerized operators. This technology allows Dr. Valenzuela and his team to offer world-class dental implants treatment customized according to patient needs and goals. We offer different types of dental implants, including:
Traditional Dental Implants
Traditional dental implants are titanium posts that serve as artificial tooth roots, and to which a variety of customized artificial teeth can be attached. The titanium posts are surgically embedded into your jawbone, and fuse with jaw tissues to provide a stable base for dental restorations such as crowns, bridges, and dentures. As they replace lost tooth roots, implants stimulate bone tissue and guard against jawbone atrophy.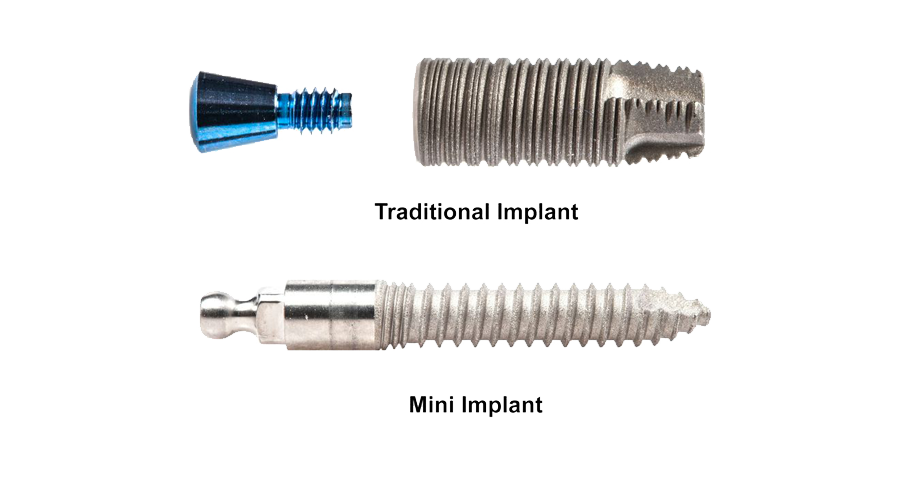 Traditional implants offer several benefits, such as unparalleled security, the freedom to eat the food you love, and talk with ease, without worrying about the prosthetics slipping or shifting. But since tooth loss can lead to jawbone degeneration, and this procedure requires sufficient jawbone density, some patients do not qualify as candidates. However, Dr. Valenzuela can perform bone grafts and sinus lifts to augment the jaw and make patients eligible for dental implants surgery.
Since traditional dental implants require at least two surgical procedures that are spaced months apart to account for jaw healing and the fusing of the jaw and tissues (osseointegration), some patients choose other implant options to achieve an immediately functional restoration.
Mini Implants
Dr. Valenzuela offers mini implants at his practice, which are smaller in diameter than traditional implants. Mini implants are generally chosen as a foundation for restorations for patients who are unable to, or do not want to go through the surgical procedure of traditional implants.
Mini implants are more convenient and less costly than traditional implants, since the procedure can typically be completed in just one office visit.
Mini implants can support and stabilize dentures without multiple surgeries and lengthy recovery times. In some cases, patients who do not qualify for traditional implants can receive mini implants without having to undergo a bone grafting procedure. Mini implants are also more convenient and less costly than traditional implants, since the procedure can typically be completed in just one office visit, and the restorations can be attached soon after.
However, there are some drawbacks to mini implants. Since they require ample support, mini implants cannot be used in a jawbone without adequate density, or in an area with excessive jawbone atrophy. Also, patients who grind their teeth regularly do not make good candidates, as that habit can wear down mini implants prematurely.
Teeth in a Day
The Teeth in a Day procedure is an alternative to traditional implants in which we can affix your restorations on the same day as the implant is placed.
We use our advanced technological tools to determine the optimal placement site for the dental implants, after which we can immediately attach the restoration.
All-on-4® or All-on-6® Dental Implants
The innovative All on 4® technique allows us to place a full implant-supported denture using only four implants. This procedure typically avoids the need for bone grafting surgery and relies on the strategic placement of the four implants in the jaw for optimum support for the fixed prosthetics. Similarly, the All-on-6® treatment relies on support of the artificial teeth using just six implants.
Dr. Valenzuela also offers the highly-sophisticated All-on-4® CAD/CAM fabricated implant bridge as an option for restoring dental implants. Precise measurements are taken of the patient's mouth using a digital scanner, after which the skilled technicians at our on-site dental laboratory fabricate a dental bridge that fits accurately and comfortably.
Schedule Your Consultation
At Cosmetic & Implant Dentistry Center, dental implant specialist Dr. Jose Valenzuela, Jr. provides a full range of dental implants. To learn about which type of implant option and restoration is best-suited for your needs, contact us today to schedule a consultation.